Bridging the Omnichannel Divide
While ecommerce is recognized as one of the most exciting opportunities in the Consumer Packaged Goods industry, poised to make up 5% of industry sales by 2018,1 it is also a source of enormous anxiety for both manufacturers and retailers. Most industry players know that they need to establish a brand presence online quickly or be left behind by savvier digital competitors. Nevertheless, a lack of understanding of how to best appeal to shoppers online has stalled the development of ecommerce strategies.
Fewer than half of CPG executives feel they have a clear ecommerce strategy,2 which should come as no surprise. With only a third of ecommerce research to date addressing CPG, retailers and manufacturers are still woefully uneducated and unprepared to develop a path forward. The few players who have devoted significant resources to defining their ecommerce strategy still lack a way to think about omnichannel cohesively.
The time has come for CPG companies to get omnichannel strategy right. The time for a debate about whether ecommerce will compete with brick & mortar stores for everyday purchases has passed.
Today, the question at hand is how big online retail will become and how to best leverage its growth.
Instead of spending time speculating, manufacturers and retailers must focus not just on ecommerce, but also more broadly on providing shoppers with better omnichannel offers.
Thanks to technology, new retailer and fulfillment models are emerging every day. The winners in the industry will be those who can look ahead, place smart bets, and proactively lead with omnichannel solutions.
For these reasons, we set out to address the knowledge gap around CPG ecommerce as well as to understand how ecommerce compares to brick & mortar in the eyes of CPG shoppers. We took as our goal unlocking new learning around shifting shopping behaviors, decision drivers, and key influencers along the CPG omnichannel path to purchase.
Through multiple phases of research, our team developed a comprehensive understanding of the CPG omnichannel landscape. Our work also uncovered three omnichannel decision drivers among CPG shoppers which inform their choice of brick & mortar versus ecommerce retail. These three omnichannel decision drivers determine the winner, be it brick & mortar or online, for shoppers' trips, wallets, and loyalty.
The key to success within this landscape is to develop a cohesive, shopper-first solution to bridge the omnichannel divide. We will explore the omnichannel landscape, focusing on each omnichannel decision driver, and share best practices that today's CPG manufacturers can adopt to help brick & mortar and ecommerce retailer partners alike win with today's shoppers.
Fresh seafood, local microgreens, ice cream, and beer are just a few of the items previously exclusive to brick & mortar that today's CPG shoppers can buy online. Today's ecommerce shelf, amazingly, has evolved to offer nearly the same range of products and categories as its brick & mortar counterpart. Perishable items and temperature states no longer present a challenge for ecommerce players. Online automation and subscription service make it easy to make routine replenishment trips online, and newer retail models such as Good Eggs, make even previously niche products, like farmers' market goods, easily accessible without shoppers leaving their couch.
While brick & mortar and ecommerce shelves now offer many of the same products, the shopping experience they offer and shopper needs to which they cater are very different. The ecommerce world remains incredibly fragmented and constantly evolving, in terms of retailer models. Ecommerce players are better able to meet shoppers' needs across some—but not all—omnichannel decision drivers. At the same time, brick & mortar players are winning against different needs along the path to purchase. We explore the omnichannel decision drivers below.
The first omnichannel decision driver concerns trip mission—for example, the extent to which shoppers are searching for new products versus replenishing products they've bought before. Interestingly, ecommerce wins at both ends of the spectrum.
Both shoppers who are trying something new—building their consideration set—as well as those making a routine replenishment purchase are more likely to choose an online retailer. Brick & mortar, conversely, best satisfies shoppers who are choosing from an existing consideration set.
On the left in the figure below, we see that three in ten online CPG buyers are driven by the desire to try something new — twice as many as shoppers in brick & mortar. The ecommerce shelf better meets the need for education through the broader range of information, inspiration, and reviews it can provide compared to a brick & mortar retail set.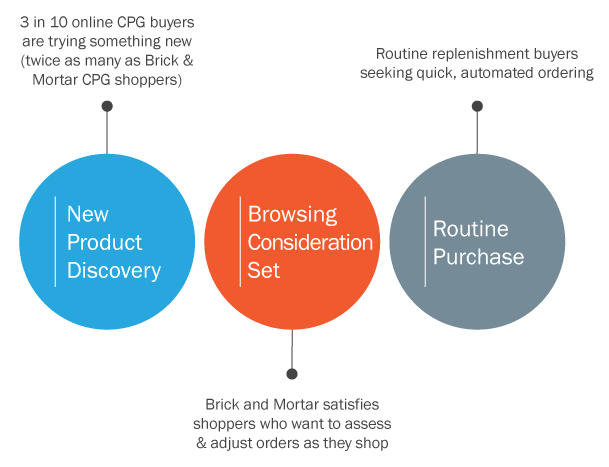 As a result, shoppers who are trying something new spend three minutes longer on ecommerce sites, likely engaging with product information and reviews. These novelty-seekers choose a website based on its ability to inspire confidence around a new item. They are more likely to seek ratings and reviews, guidance on product use including live chat, and inspiration such as recipes or before-and-after features. Sephora.com, for example, features robust product details and images, advice and inspiration around how to use each item, brand background for each product, ratings, reviews, and the opportunity to post questions and receive answers in the reviews section. Sephora sets the bar for online personal care by being exceedingly easy to shop and confidence-inspiring.
At the same time, the rise of auto-replenishment models, such as Amazon's Subscribe & Save, has led shoppers on routine replenishment missions to choose ecommerce as well. Knowing exactly what they want, these shoppers would rather order in advance versus take the time to make a trip to a nearby store. Two of the most important attributes in selecting a website to these shoppers are that, firstly, the site that saves personal information from prior purchases and, secondly, that the site saves prior orders. Over half of these shoppers spend fewer than five minutes making a purchase online, keeping with their desire for time-saving ecommerce automation.
While online wins at both ends of the spectrum above, brick & mortar retailers have an edge in browsing within a shopper's pre-defined consideration set. Not only is the experience of in-store browsing enjoyable, but it also gives shoppers the opportunity to compare items package-to-package and peruse all options up close. In addition, less than a quarter of brick & mortar CPG buyers are seeking a specific flavor or variety. As a result, these buyers value the opportunity to choose the specific items to purchase from their consideration during their shopping trip.

"I do enjoy grocery shopping. I just like the selections of all the different foods you can buy and all the produce you can find. I like being able to pick up fun things off the shelf and try new types of items."
– Shopper

"Offline, I get to browse a physical store; online is quick and specific."
– Shopper
On the left in the figure below, we see that three in ten online CPG buyers are driven by the desire to try something new — twice as many as shoppers in brick & mortar. The ecommerce shelf better meets the need for education through the broader range of information, inspiration, and reviews it can provide compared to a brick & mortar retail set.
Our study found that four in ten brick & mortar CPG shoppers purchased their desired item within an hour of recognizing they needed it, seeing brick & mortar as "instant gratification" for their spending. On the other hand, over half of online CPG purchasers waited a day or more to pick up or receive the item they had ordered via ecommerce. Shoppers generally see online purchases as most appropriate for items they don't need right away.

"I use online shopping for items I know very well and can wait for, offline for everything else."of items."
– Shopper
Given the rapid acceleration in fulfillment times, this omnichannel decision driver will no doubt continue to shift.
Same-day ecommerce fulfillment services, such as Google Express, are putting pressure on traditional ecommerce and brick & mortar players alike by offering delivery within an hour. So far, however, penetration for these quick fulfillment services is relatively low. Time has yet to tell whether buyers will stop going to physical stores to get the items they need immediately.
The last major omnichannel decision driver informing the choice between brick & mortar from ecommerce CPG purchases is the divide between shoppers who want to evaluate products themselves and those who trust others to select them. Nearly six in ten shoppers value the ability to pick out an item in person in order to have more control over the purchase and to verify its quality.
This preference is especially commonplace when shoppers are buying goods such as produce, fresh meat or seafood, which they need to experience in person to see, touch, or smell. Conversely, shoppers are much more likely to forego evaluation and opt for ecommerce when buying more standardized packaged items, such as HBA, household goods, pet products, or even highly commoditized packaged perishables such as dairy.

"With online shopping you have to trust the quality of the goods you're buying based on the merchants' reviews versus offline shopping where you can actually see the quality of the goods you're buying."
– Shopper

"Going to a physical store lets me choose the items I want myself."
– Shopper
Understanding the decision drivers that determine the choice between brick & mortar or ecommerce retail channels is crucial to developing an omnichannel strategy. It is clear that the way to win in today's CPG industry is by meeting shoppers' needs across all three: Urgency, Product Exploration, and Product Selection.
In order to arm manufacturers to better lead their retailer partners to mutual growth, we have identified three strategies to win with CPG shoppers at both the brick & mortar and ecommerce shelf:
Identify what matters to your brands' buyers & your key retailers' shoppers
In order to succeed in the future omnichannel landscape, manufacturers must invest in shopper and consumer insight now. The gaps in learning today are vast and slowing CPG players' progress.
Brands need to quickly identify what is unique about their buyers, how they select channel and retailer, most important attributes, and trade-offs made at shelf. Manufacturers who can invest in uncovering these insights today have an opportunity to outpace their competition.
Define ecommerce and brick & mortar strategies and integrate to build omni-channel
Omnichannel cannot be simply an extension of the brick & mortar shelf. Rather, strategies for ecommerce and brick & mortar retail, as well as for the channels within, must be shopper-led and distinct, based on the unique experiences they offer. Manufacturers must then coordinate and integrate all strategies to create a cohesive omnichannel approach. At the moment ecommerce strategy and experience is less developed than its brick & mortar counterpart. As such, manufacturers have an opportunity to update their current offer to better meet the needs of the ecommerce shopper.
Brand landing pages, organization by segment or type, as well as customized product-finding tools are key. Manufacturers can also better satisfy their ecommerce buyers by creating a 'browsing' feel on their pages. Optimize site content via product images, helpful descriptions, and videos to allow shoppers to feel like they can touch and feel products through the screen. Finally, make sure products offered are the sizes (bulk or sample) and varieties that shoppers are buying online versus in-store, knowing that purchases are likely to be driven by new item discovery or quick replenishment.
Choose The Right Omnichannel Partners & Structure To Collaborate
Depending on a brand's buyers, certain retailers will be able to fulfill needs and satisfy preferences better than others. Amazon, for example, will deliver a drastically different purchase experience than Google Express or a trip to a brick & mortar Walmart, even if a shopper is buying the same item from each retailer. Brands need to determine how retailers can win with their brand buyers, choose partners who can deliver, and guide these partners via insight-fueled thought leadership.
Furthermore, brands should structure their omnichannel team to be able to most efficiently collaborate with retailer partners. Too often, ecommerce or digital teams are disconnected from brick & mortar managers despite the fact that few shoppers buy a brand only online or only offline. Manufacturers should ensure organizational structure facilitates collaboration internally and with customers, so the right people are in the right rooms connecting.
CPG firms need to develop a successful omnichannel strategy today. In the coming years, ecommerce, which has already developed a unique positioning versus brick & mortar, will capture a significant share of industry sales.
The omnichannel landscape will continue to evolve as brick & mortar and ecommerce retailers adjust their strategies to best meet shoppers' needs for urgency, product exploration, and product selection.
The winning players will be those nimble enough to adapt quickly and meet shoppers' preferences for purchasing their category. It is our hope that these learnings will offer today's CPG manufacturers valuable insight and that the strategies suggested here will arm them to best guide their retailer partners to incremental growth and shopper satisfaction.
Study Methodology
Our work consisted of two phases of in-depth research:
We conducted fieldwork interviews to develop a basic understanding of the shopper mindset as well as top questions and hypotheses among CPG players. • Manufacturer Interviews addressed existing knowledge around ecommerce, strategies to date, and knowledge gaps.
• Retailers Interviews helped us to identify omnichannel path-to-purchase hypotheses, challenges around ecommerce, and best in class ecommerce manufacturers to date. • Consumer Interviews allowed us to evaluate differences in brick & mortar versus ecommerce purchases, strengths and weaknesses of each channel, and unmet needs.
We fielded an online study among 1,000 shoppers who had made an online CPG purchase in the prior month to develop a quantitative knowledge base and to reveal
differences across several key spectrums (e.g., online versus brick & mortar, across different categories, across different trip missions).