Delivering Idea Leadership
The world is becoming more fragmented, and so is data
The days of standardized (and commoditized) data in the CPG industry are over. Traditional sources of information come from sales and marketing channels that hold less and less dominance over today's shoppers and consumers. From a marketing perspective, there is a massive shift of media dollars away from traditional media to digital media. From a sales perspective, growth is increasingly coming from "dark channels" not measured by syndicated data (e.g., eCommerce, alternative retail models like travel and bodegas, non-participating retailers like Trader Joe's and Aldi).
Insight investment is being reduced, while teams being tasked with doing more
On top of zero-based budget constraints, insight teams are forced to use their limited time in collecting data from across today's fragmented, omni-channel landscape. Many organizations are giving teams long learning agendas to identify and understand growth opportunities while providing less in the form of resources. A recent Seurat Group assessment of the insights practices of CPG companies found that many researchers are struggling in this environment.
If you want to catch big fish, you have to go into deep waters
Some things stay the same: companies struggle to translate information to insights and actions. Is fragmentation of data driving your insight capabilities into increasingly shallow waters? As resource constraints cause evergreen issues in research to accelerate, it's even more critical to tighten the ideal leadership process to arrive at the clarity to act and invest in the future.
The Idea Leadership Pyramid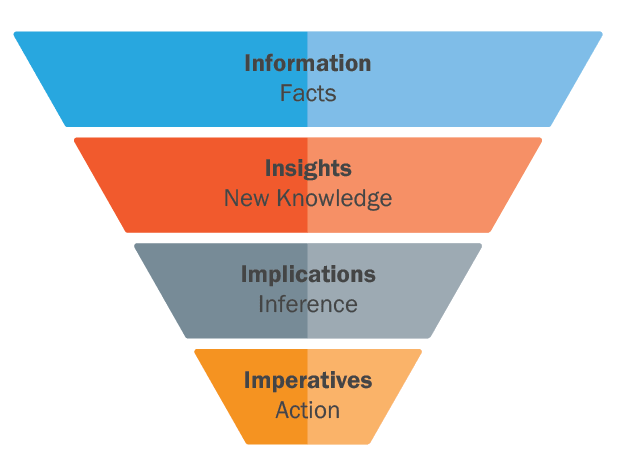 Insights teams play a pivotal role in high performing organizations by extracting relevant information from data, elevating that information to insights, identifying the implications for the business and eventually aligning on imperatives to action. The Idea Leadership Pyramid helps illustrate opportunities to increase organizational capabilities to identify and action deep insights.
Ongoing Challenges
Consumer shifts and new ways of interacting with brands creates a wider variety of data to gather and analyze.
Solution
Continuously test new methods, such as passive tracking and social media analytics, to understand the consumer & shopper everywhere they are, online and offline, throughout the ever-changing consumer journey.
As 'off the shelf' studies like market structures are increasingly commoditized, challenging to uncover differential insight.
Customize research design for specific insight needs and use multiple lenses of information to create the foundation needed to identify deep insights.
Ongoing Challenges
Fragmentation of data assets, often in silos, inhibit the data connections necessary to fully understand the consumer/shopper.
Solution
Activate a knowledge management plan that integrates all available data and facilitates connectivity.
Resources are increasingly scarce while needs continue to increase.
Establish an interconnected data structure and actively mine data that already exists in the organization before fielding new work.
Research not keeping pace with a rapidly changing consumer and shopper landscape.
Ensure research is designed to be "forward looking" to increase relevancy beyond a single point in time and anticipate future challenges.
Ongoing Challenges
Research reports often focus on sharing facts and information.
Solution
Ensure the "what" is connected with the "how" and the "why" to better identify relevance in addressing business issues.
Application of information limited by exclusive understanding and/or 'ownership' by the insights function.
Insight teams must develop capabilities to teach the organization how to interpret insights effectively and elevate through every level of the pyramid through storytelling vs. reporting.
Ongoing Challenges
Gaps between internal stakeholder business needs and available insights.
Solution
Make idea leadership a cross-functional "team game" in both informal team structure and project process through all slices of the pyramid.
Conclusion
The ability of any Consumer Goods organization to understand the needs and deep motivations of consumers and shoppers and successfully commercialize those insights is THE differentiator between winners and losers in today's marketplace. Elevating information to insights and action is filled with challenges at every level, and many organizations have barriers that must be removed to realize the full return on insight investment. As these issues accelerate with increasing fragmentation across marketing and retail channels, it is imperative to re-examine foundational research processes to foster game-changing idea leadership.
For more information on Idea Leadership, contact us at info@seuratgroup.com or visit our website: www.seuratgroup.com.